Learn how we save wildlife and our environment when disastrous oil spills occur! In this engineering challenge kids will clean up and contain an oil spill!
Jump to a section
Introduction
Project Ingredients
Project Setup
Tips and Tricks
Conclusion
Clean up the environment for National Engineering Month!
March is the start of National Engineering Month, and what better way than to celebrate with a host of fun environmental engineering challenges! We've made four fun challenges complete with printable student lab books, keys, and lesson plans. That means it will be really easy to implement them in your class.
Cleaning up an oil spill is a really important task. With recent spills like the Deep Water Horizon, the Keystone pipeline leak (or really, leaks), and a mysterious leak in Brazil, it is evident we need to find ways to keep wildlife, and ourselves, safe.
Did you know there were more than 100 oil spills in the US alone in 2018?!? There is even one spill from a broken platform that has been releasing oil into the Gulf of Mexico for nearly 15 years – yikes! With our hunger for fossil fuels and our need to acquire, refine, and transport it, it shouldn't come as a surprise that there are nearly a dozen spills in the US each month.
Creating small scale spills to learn about oil spill cleanup
In this project we will be spilling some olive oil, or colored vegetable oil, so we don't have to worry about environmental impacts any larger than if we decided to cook up some hamburgers and fries at home. Of course, you wouldn't want to pour a bottle of vegetable oil down your pipes, which is why our oil spills are limited to about 10-20mL of oil per test.
In the first part of the project kids will investigate what materials help absorb oil the best. This is a great entry to how we can help clean off wildlife once they are affected. Then, kids will try to contain a large scale spill on water using various materials to create an oil boom. These are all things real environmental scientists test, and use, to clean up oil spills around the world.
Why is environmental engineering important?
With climate change barreling towards us we are going to need an army of environmental engineers to find solutions to our crisis. The will help in cleaning up toxic waste, learning how to harness renewable energy, developing ways to create breathable air, even managing our solid waste. What other environmental issues do you think engineers will help us solve in the future?
Project Ingredients
Oily Joe's Store Ingredients
The Oil Spill Cleanup Challenge setup
Print out enough booklets so each child participating has one.
Set up your Oily Joe's store with the items on the list. If you need to, modify the list with materials you have on hand.
Prep a space for the testing. This is best done near a sink. I like to use syringes for measuring the oil, and timers to measure the elapsed time since the spill.
Always be prepared! Read over the lesson plan and key (included in the download) so you know the project!
Prep videos to watch if you want to include any. I like "" and "", but there are a ton of cool videos out there to show. I like to show the videos on a tablet that is in my line up area – this helps some students wait patiently for their turn to test.
Tips and Tricks for the Oil Spill Clean Up Kids Science Activity
1. Use the student lab book
The student lab book has a lot of the information and procedure you need to have a successful lab. It contains background history if you don't have time to prep your own fast talk, vocabulary, brainstorming space, and more.
The lab book is hands down the best way to get the most out of all our engineering challenges.
2. Use drawings
Drawings are a great way to check student understanding. Drawings should label the materials students plan to use, which can help you guide them in terms of their budget. They can should also show the boom inside the overall container, and you should check that their boom spans the container side to side. If not, you might want to point out the area that oil could easily flow to their beach.
3. Find inspiring videos
This project is awesome, and I love how many oil boom containment systems I have seen kids create. There are a lot of angles you can garner buy in from kids with. With the Deep Water Horizons spill, recent Keystone Pipeline spills, images of marine life covered in oil, or oil covered birds needing aid, there is no shortage of imagery to show kids. I have often sent the smaller initial project home with students to try with their families if they want. If you are doing it in class, this video of a 14 year old discovering a new adsorbent for oil at home is a great conversation starter.
4. Scores to expect.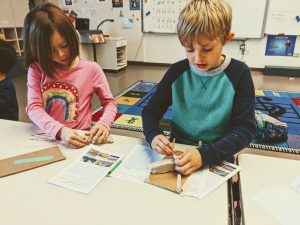 Unlike some of our environmental engineering challenges, like the landfill challenge, scores for this challenge top out at 2,500 points. Kids gain 500 points for keeping their beach clean for the first minute, and 500 points for keeping it clean of an additional minute.
500 more points can be earned if their oil boom attracts and seems to adsorb a significant amount of the oil. That is, the oil has collected around the boom instead of still floating in globs. And then kids add in the money remaining in their budget. You can, and should, award portions of these point chunks as you see fit.